Carl H. June, MD, pioneer of CAR T Cell Immunotherapy
Full video below of his 9/26/19 presentation at UMass Chan Medical School
Date Posted: Friday, September 27, 2019

Dr. David Harlan had the pleasure of inviting and introducing his longtime friend and fellow distinguished physician/scientist, Carl H. June, MD, to speak at the Department of Medicine Grand Rounds at the UMass Chan Medical School. They worked closely throughout the 1990's when they led the U.S. Navy's "Immune Cell Biology Program."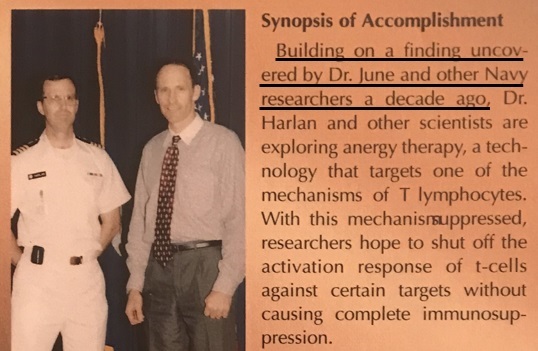 Dr. June is best known for his pioneering work developing CAR T-cell therapy for the treatment of leukemia. He currently serves as director of the Center for Cellular Immunotherapies at the University of Pennsylvania Medical School and director of the Parker Institute for Cancer Immunotherapy. The passion he holds for his work was made quite evident during his outstanding 45 minute seminar about the origin, design and success of CAR T cells.
"The surest bet to achieving a great and important goal is to pick a huge one, worthy of your life's work," said Dr. Harlan during his emotional introduction. "Focus on that goal, demanding excellence of yourself and all around you at all times. With persistence, teamwork and resolve, you might just hit that goal."