Page Menu
Liam's Story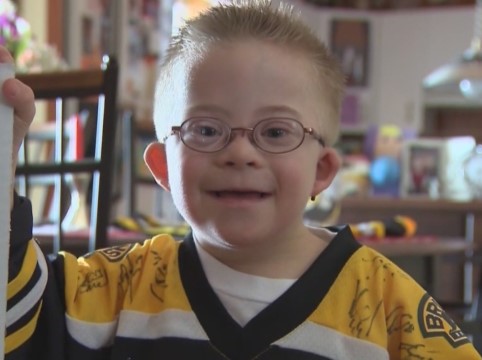 Liam Fitzgerald kicked cancer's butt. Not only that, he kicked cancer's butt before he even started first grade. Born in 2006 with Down Syndrome, Liam was "a happy kid with no issues," according to his mother Christine. But in November of 2009, she and his dad Bill noticed him limping. Soon after, a call came from his daycare: "Liam seems fine, but he won't get up. He won't walk or put any pressure on his legs."
The Fitzgerald's took him straight to UMass Medical Center for x-rays and testing. The diagnosis was Acute Lymphoblastic Leukemia (ALL). Liam's cancer had spread quickly, so treatment began immediately. "He dealt incredibly well with it," said Christine. "The toughest for him was the first month or two, when he was on the heavy, heavy chemo. Christmas was very tough. He didn't have a lot of energy, he couldn't get excited about much. But for most of the treatment he was pretty up."
And when Liam was big enough, his doctors changed his Broviac line to an internal port. "From a quality of life perspective, a port is amazing, because it's under the skin," saving Christine and Bill the constant task of cleaning (and constant worry of infection). The downside for Liam, though, was his allergy to the numbing cream that's applied to the skin before administering IVs or meds. Mom and Dad were always there for moral support. "We told him, 'OK, buddy, you just have to be strong,' and he was. He still is, because we have to go every other month for blood draws."
"The doctors and nurses at UMass? Absolutely amazing."
"We had the most incredible set of doctors, and I can't say enough about the nursing staff," commended Christine. "They're the ones dealing with the kids and the parents on a regular basis." She gave special kudos to The Child Life Center on the fifth floor. "When kids are quarantined in their rooms, those people come and play with them. That was a lifesaver in many situations when Liam was stuck in his room."
Less than a year after he started treatment, Liam was paired up with a 'Sidekick,' a med student who follows a child's case one-on-one and learns about the treatment—and the patient—at a more in-depth level. Liam's Sidekick was Dr. Julie Tabroff, who graduated this year. "She became part of our family," said Christine. "She came to birthday parties, she played with him—every time he was in the hospital, she was there. She was a big part of his treatment from the human side.
"I know that medical professionals have to keep a certain distance," said Christine. "But the doctors and nurses do the little things that make you feel comfortable as a parent, and also make the kids not feel like 'this is a scary place to be.' It's not a scary place to be, it's a place they need to be. The more comfortable we are, the better it is to go through something like this."
Together with his parents, the doctors and nurses at UMass Medicine Cancer Center helped this tiny little boy connect with the courage inside him and stay strong in his fight.
Kick it, Liam!

Liam's final chemo treatment was in May 2013, and if you were on the Internet, you probably saw the image: a little boy smiling ear-to-ear and holding a sign that read, "I kicked cancer's butt!" "We put it on our Facebook page," said Christine, "and that day it showed up on Huffington Post, Reddit, Twitter, all over—it got millions and millions of 'likes' and it keeps showing up periodically."
Cancer treatment kept him out of the classroom, but Liam starts second grade in the fall. "He's incredibly well-adjusted in school." said Christine. "He does speech therapy, physical therapy and occupational therapy, but he also participates in a fully integrated classroom." Not one to shrink from the spotlight, Liam had a part in his school's first-grade play. "He pretty much has a very normal, active life."
Christine concludes, "We had a choice between Boston and UMass. I thought, 'This is a standard protocol. UMass is a fantastic hospital, and it's right down the street from us.' I'll tell you that it's the best choice we ever made."