Page Menu
Danielle's Story, as told by her mom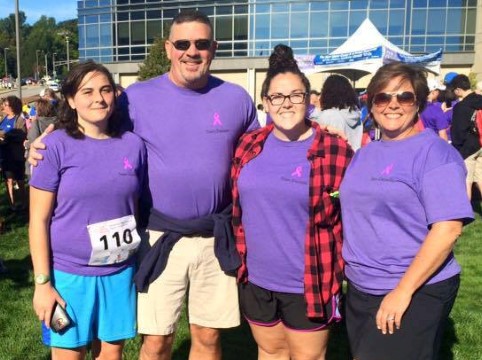 On February 10, 2014, I took my 19 year old daughter, Danielle, to her primary care doctor for what we thought was her third bout of bronchitis. She was a sophomore in college and home for a visit and still had the "bronchitis" she had when she was home at Christmas. After about an hour of blood work and x-rays, we received the news that no parent ever wants to hear…your daughter has cancer. The fear was immediate, you could hear it (as if I was walking under water), taste it (maybe adrenalin), feel it (my heart physically hurt) but all I could say was no…no…no. The first call we made was to my brother at St. Jude's where he is a Research Medical Technologist in their Molecular Development Lab. We relayed all the information we had received that day and read off results of blood work, all in hopes that he would tell us that they had made a mistake. Instead he said, "Brace yourselves, she has cancer". So our first thought was to pack her up and get her to St. Jude's in Memphis, TN; but he said that wasn't necessary and that we had the best cancer facilities in our own back yard and suggested we reach out to UMass Medicine Cancer Center.
The days following the initial diagnosis moved so slowly. Days of blood work, biopsies, then 10 days later, the confirmed diagnosis. It was Hodgkin's Lymphoma with concerns that it had spread to her bone given the pain she was experiencing in her arms. Once we received the diagnosis, we requested that we be referred to Boston or Worcester for treatment. With absolute certainty, we were referred to UMass and in short order, we were standing in a room with the wonderful Dr. Christopher Keuker. We went into our first appointment scared, anxious and unsure of our future but we left there feeling confident in Danielle's treatment and knew this was a battle she could survive.
The battle was a long, hard fight and it is difficult to watch your child be broken completely down so that they could kill the cancer. The doctors and nurses of the cancer unit were so caring, patient and understanding of all our needs. They treated all of us, not just Danielle. They answered all our crazy questions and concerns with respect. They patiently managed us through our roller coaster of emotions. The chemo treatments were rigorous and taxing to Danielle's body and as we continued through each session, the treatments took their toll faster each time. We were thankful that we live so close, only 25 minutes' drive, so we could have her back in the comforts of our home in a short time after treatments yet be close enough whenever we had to have a "zoom to the room" emergency.
In October 2014, we received the news that Danielle was in remission! We are forever thankful to Dr. Keuker, Dr. Moni, Dr. Barlow, Dr. Fahey, our nurse Bea and all the others in the infusion room that were there for us and continue to be there to support Danielle as they now help to build her body back up. The long term impact that chemo has on your body is a lesson you learn throughout the process but it is a necessary evil. It is a great comfort to us that UMass is right in our back yard and provides all the necessary safety nets with cardiologist, oncology ob-gyn, and others that will continue to monitor Danielle's health post treatment.
While it is unfortunate that this happened to us, the reality is cancer can happen to anyone. Take comfort in knowing that we have this great facility of UMass Medicine Cancer Center right here in our own backyards for state of the art treatment.
Our family received so much support from our friends, family, neighbors and many in our community that we did not know. The support and positive, kind words from so many was overwhelming…in a good way. Now that we are finally in a better place, Danielle and our family wanted to find a way to pay it forward for the kindness. And what better way to pay it forward than to help raise awareness of this incredible fundraiser.
During Danielle's battle, there were others less fortunate than us. But this is where all of you can help...help us raise money to support the innovative research, clinical trials and compassionate treatment at the UMass Medicine Cancer Center. Help us Pick Up the Pace in the fight against cancer.