Page Menu
Get Involved
BECOME A TEAM LEADER
Leading a fundraising team is one of the most effective ways you can support the UMass Cancer Walk and Run.
Already a team leader? Here are some fundraising ideas to help you reach your goal.
MAKE YOUR GIFT
By phone: 508-856-5615
By mail
Make checks payable to UMass Cancer Walk and Run, and note if your donation is on behalf of an individual fundraiser or a fundraising team. Please mail checks to: UMass Cancer Walk and Run, 333 South Street, Shrewsbury, MA 01545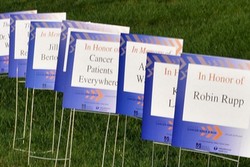 PURCHASE A TRIBUTE SIGN
Honor your loved one, caregiver, doctor or nurse, or someone special with a Tribute Sign placed along the walk and run routes. Anyone can purchase a sign. Proceeds from sign purchases are put toward the overall event rather than to an individual or team goal. Purchase your sign(s) online.
VOLUNTEER YOUR TIME
An event of this size and scope is made possible because of dedicated volunteers. Opportunities include helping at walk-related events and on the day of the walk; putting together event-related material, and much more.
Click here to learn about the various volunteer opportunities that are available, and to sign up.
YOUR EMPLOYER CAN HELP, TOO
Matching gifts
Many employers will match employee charitable contributions, which can double the impact of your gift. Contact your Human Resources Department for a matching gift form from your employer and send us a completed copy. We will do the rest.
Payroll deductions - UMass employees
UMass Medical School and UMass Memorial employees can make gifts through payroll deduction. Sign up is required; please contact us for a copy of the form.
Start one or more fundraising teams at work
Accept the Central Massachusetts Business Challenge! As if beating cancer isn't reward enough, this mission has a unique challenge for you: if your team is a top performer, you'll be lavished with public praise and prizes.
DONATE GIFTS IN KIND
Your donations of services or tangible items support our fundraising efforts and help to make walk/run day a wonderful experience.
Generous donors have contributed any or all of the following in recent years: snack bars; raffle prizes for the Survivor Tent; crafts for Children's Tent; pompoms and noise makers for Survivor Lap; volunteer and team leader T-shirts (quantities vary); team leader bags (500); shipping boxes; printing services; floral centerpieces for Kick-off and Thank-you events, and much more.
Please contact us if you have items or services you would like to donate.
Best Fundraising Event 2019 - Worcester Magazine