Page Menu
Every step they take

For these five, running the 2019 Boston Marathon is more than something to check off the bucket list
February 2019
You see them every April—the thousands who gather in nearby Hopkinton to lace up their sneakers and embark on the run of a lifetime: the historic Boston Marathon. Many participate for reasons beyond themselves; they run to support worthy causes.
Among this year's noble group will be five people who are raising awareness and funding for vital amyotrophic lateral sclerosis (ALS) research being conducted at UMass Medical School. They are the 2019 UMass ALS Cellucci Fund Boston Marathon team.
Like the dozens of Cellucci Fund runners before them, these dedicated people want this horrific disease eradicated from this earth. They've seen firsthand how it devastates lives, because each one of them knows someone who either has ALS or has died from it.
Edward "Teddy" Craven, 22, said running the marathon for the UMass ALS Cellucci Fund is a fitting way to pay tribute to one of his youth coaches, Richard P. Kennedy, who was diagnosed with ALS three years ago, after spending decades raising money to fund a cure for the disease.
"It's difficult to describe what a great person he is," said Craven, a senior at the University of Connecticut. He grew up with one of Kennedy's sons and recalled many basketball games and car rides with Coach Kennedy. "He's truly an inspiration."
Kennedy is president of The Angel Fund for ALS Research, a nonprofit that, like the Cellucci Fund, has one objective: to support the research of Robert H. Brown Jr., DPhil, MD, at UMass Medical School. ALS has touched the Kennedy family since 1989, when the disease claimed Kennedy's father. Several years later, Kennedy's youngest brother died from ALS at the age of 31; and in 2016, Kennedy was himself diagnosed with ALS at the age of 56. He recognized the symptoms while he was training for his 32nd Boston Marathon.
Dan Leone of Waltham; Julie Bowditch of Worcester; Kathleen Berry of Charlton; and Michael Walpole of Hanover; are also on the UMass ALS Cellucci Fund marathon team.
Leone will run in memory of his father, Donato Leone, who died in 2008 at age 78 from ALS.
"This disease took him away from us. I am honored to be allowed to run the Boston Marathon and help raise money for the UMass ALS Cellucci Fund so perhaps, one day, no one will need to suffer from this disease," Leone said.
For Bowditch, every step she takes will be for her late uncle, Ron Merrill, who was diagnosed with ALS the weekend of the 2018 Boston Marathon and died from the disease that September.
"No one deserves to battle amyotrophic lateral sclerosis. No one. But my Uncle Ron really didn't," Bowditch said.
This is the eighth year that runners supporting the UMass ALS Cellucci Fund have taken part in the John Hancock nonprofit marathon program. The partnership provides official race numbers to those who commit to individually raising a minimum of $7,500 to support ALS research at UMMS. The Cellucci Fund marathon teams have raised more than $400,000.
Click on a runner's name below to support her or his individual fundraising efforts.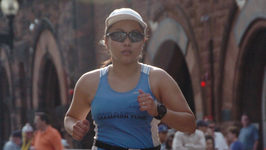 SPONSOR the Boston Marathon 2019 Cellucci Fund Team
Your organization can provide hope to those affected by ALS with something very rare and very needed: HOPE. Your organization can sponsor this year's team in their fundraising efforts.
Details here...