Page Menu
Parents Annual Giving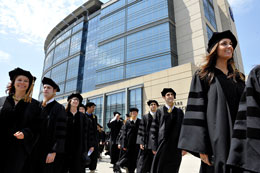 We invite you to support the Medical Education Fund, which helps us to provide accessible, comprehensive and personally rewarding medical education of the highest quality. Your Annual Fund gift will help UMMS to continue the tradition of excellence that brought your child here in the first place. Support from parents of medical students always has been key to helping the Medical School maintain the highest standards.
You can make your gift through our secure online web page or you can mail your check, payable to UMass Medical School, to the Office of Advancement.
For more information about our annual giving program, please contact Ashley Panzarino by email or 508-856-8550.