Page Menu
A gift of gratitude
Grateful donor supports the IBD research of the UMass dietician she credits with "saving her life"
August 2017
For donor Joan Freedman, this story should be all about Barbara Olendzki, RD, MPH, and her compassion for patients. For Barbara, who is the director of the Center for Applied Nutrition at UMass Medical School, it should be all about Joan and her steadfast generosity to UMMS and UMass Memorial Medical Center over a span of almost 40 years. They get like that about each other.
"Barbara is a genius in the field of nutrition," said Joan—or Joanie, as Barbara affectionately calls her—before playing her trump card in the Who Deserves More Praise debate. "And she saved my life."
Barbara, who is also associate professor of medicine at UMMS, and director of the Center for Applied Nutrition, is a nationally recognized expert in nutrition's role in treating a range of diseases.
When Joan was diagnosed with a gastro-intestinal ailment, her primary care doctor referred her to the Center for Applied Nutrition for a consult.
"My doctor, Dr. Lynn Li, told me that she could have prescribed medication but she knew that the Center was having success in treating GI problems," she said. "We agreed that if I could get by with one less prescription that was a good thing."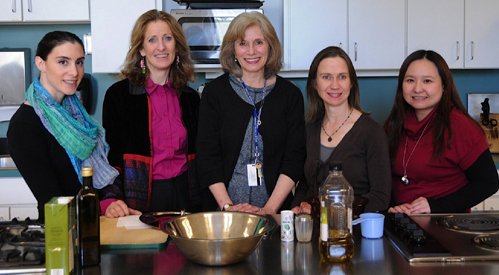 Meeting Barbara was also a good thing.
"From the very first meeting, I knew that I was not going to be a number on a patient record," said Joan. "Right off, she wanted to know my life story: my family, my interests, where I had travelled and what I enjoyed doing, including what I liked to eat.
"We talked for a while before we got around to my health. When I told her that my GI ailment was often a barrier to doing the things that I enjoyed, she immediately said, 'We can fix that.'"
Professor Olendzki has directed the Center for Applied Nutrition since it was launched and has been a leader in the still-new study of culinary medicine at medical schools across the country. Her initial interest in the field grew out of her work with patients being treated for cardiovascular disease. "Cardiac nutrition is all about learning to balance macro- and, particularly, micronutrients. These principles can be applied to other diseases as well, and I present them to patients in a way they can digest easily while preserving their enjoyment of food."

The Center has a straightforward mission: to use food for preservation of health and treatment of disease. The scope of the Center's work includes research into the role of nutrition in illnesses and medical disorders that, in addition to cardiovascular disease, include cancer, diabetes and obesity. The Center's current research focuses on gastrointestinal diseases, including inflammatory bowel disease (IBD). The primary objective of that research is to alleviate IBD symptoms.
"IBD can be life-threatening," Olendzki said. "Even patients with moderate IBD can suffer from debilitating symptoms, such as severe abdominal pain caused by inflammation, fatigue, loss of appetite and malnourishment. Relief of those symptoms makes a tremendous difference to our patients."
A recent gift from Joan, with her husband Richard (known as Rif), is supporting a project that is recruiting 250 individuals with IBD to participate in an on-going dietary study. The purpose is to determine the effect of certain foods on the microbiome in the gut to improve nutrient absorption, and thereby lessen inflammation and other symptoms.
This gift from the Freedmans is just one in a long line of support. The Worcester couple first started making annual contributions to UMass Memorial in 1979. Since that time they have also supported the Emergency Care Campaign, the CANDO Clinic, the UMass Memorial Children's Medical Center, cancer research and care, UMMS scholarships and the annual research fund, among several other programs and funds.
"Generosity is a reflex response for Joan and Rif," said Kim Canty, a director in the Office of Advancement who has worked with the Freedmans for several years. "If we speak to them about an important need, they will want to help."
"I am so grateful to Joanie and Rif," Olendzki said. "I'm not quite comfortable with getting the credit for saving her life, but I am very comfortable with giving Joanie the credit for helping us improve the quality of life of many other people."
For more information about the Center for Applied Nutrition and Professor Olendzki's work, please visit www.umassmed.edu/nutrition.
Top photo: Donors Joan and Rif Freedman and IBD-AID principal investigator Barbara Olendzki.
Bottom photo: Professor Olendzki (second from left) is ready to teach an IBD-AID cooking class in 2014 with Division of Applied Nutrition colleagues.