Page Menu
School of Medicine
As alumni from the UMMS School of Medicine reflect on the excellence and value of their education, many show their gratitude by supporting the school through generous gifts to one of several funds.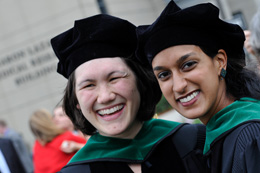 We invite you to support the Medical Education Fund, Alumni Scholarship Fund or Financial Aid Endowment Fund. The Medical Education Fund supports the latest in educational technology as well as advancements to our curriculum and training programs, all with a goal of enhancing student learning.
The Alumni Scholarship Fund makes accessible a comprehensive and personally rewarding medical education of the highest quality, while easing the burden of student loan debt. Through continued support of this fund, we are able to make available need-based scholarships to students so they are not deterred by the financial constraints associated with medical school costs. Although our tuition remains reasonable when compared to those of private medical schools, many of our students, especially those who are first-generation college students, have a difficult time meeting expenses.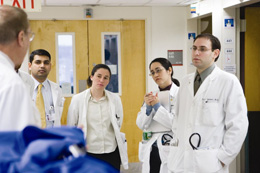 Our dedicated Financial Aid Endowment Fund allows us to attract talented students regardless of their ability to pay and provides those who are financially disadvantaged with the opportunity to pursue a medical education that they may otherwise not be able to access. At UMass Medical School, it is becoming increasingly important to have a steady source of funds available. With your help, we can make a difference in the life of a future medical student and continue to transform young people's lives.
View a video on the profound impact of scholarship aid on the lives of UMMS students who want to make a difference in the world.
Through ongoing alumni support of all of these funds, UMass Medical School continues to lead the way in medical education and providing exceptional patient care in the Commonwealth of Massachusetts and beyond.
If you're looking for a personal and generous way to say thank you to a faculty member who made a difference in your life, consider a pledge of $1,000 or more in honor of the professor you found most influential.
You can make your gift conveniently through our secure online web page or you can mail your check, payable to UMMS, to the Office of Advancement.
For more information about our annual giving program, please contact Ashley Panzarino by email or 508-856-8550.