Page Menu
Graduate School of Nursing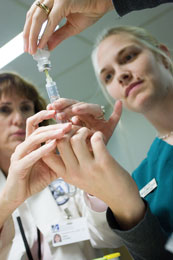 As alumni from the Graduate School of Nursing (GSN) reflect on the excellence and value of their education, many show their gratitude by supporting the school through generous gifts. The impact of alumni and community support is critical to enhancing the student experience, developing educational programs of national distinction and ultimately, providing exceptional nursing care. You may consider making a gift to the GSN Annual Fund, Scholarship Fund or Lillian R. Goodman Lectureship Fund.
The GSN Annual Fund helps strengthen academic programs and supports faculty and research programs that make UMass Worcester a leader in education, research and service.
The Scholarship Fund provides support to students pursuing graduate degrees at the School of Nursing. Through our scholarship program, we cultivate the next generation of nurse leaders, educators and advanced practice nurses in masters, post-masters and doctoral programs.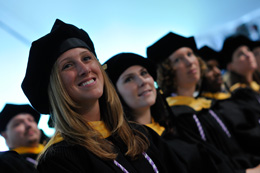 The Lillian R. Goodman Lectureship Fund supports professional development by offering lectures by leading experts in the field of nursing to students and alumni.
Your gift to the GSN today will benefit our students' experience and our ability to train nurses to provide exceptional nursing care for patients in the Commonwealth of Massachusetts and beyond.
You can make your gift conveniently through our secure online web page or you can mail your check, payable to UMass Medical School, to the Office of Advancement.
For more information about our annual giving program, please contact Ashley Panzarino by email or 508-856-8550.