Page Menu
Annual Research Funds/Worcester Foundation Grants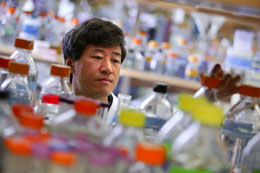 Funds raised through the Annual Research Fund and Hudson Hoagland Society support the Worcester Foundation Grants. These "seed" grants allow talented scientists to explore new, groundbreaking ideas and serve to fill critical funding gaps while waiting for federal research grants. Each year, UMass Medical School scientists submit proposals for Worcester Foundation Grant funding and only the top 10-12 proposals are awarded. These grants have accelerated research in cancer, heart disease, ALS, Alzheimer's disease, diabetes, AIDS, multiple sclerosis, RNA interference (gene silencing) and stem cell research, and represent some of the most innovative and medically promising work being done at UMass Medical School.
To learn more about grant recipients who have recently benefited from these funds, click here.
You can make your gift conveniently through our secure online web page or you can mail your check, payable to UMMS, to the Office of Advancement.
For more information about our annual giving program, please contact Ashley Panzarino by email or 508-856-8550.