Page Menu
Annual Giving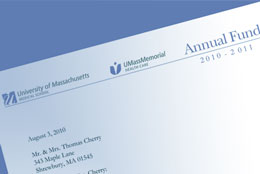 Each gift to UMass Medical School brings us closer to our goal of improving the health and well-being of all. Our annual giving program offers our friends the opportunity to give to a cause that they believe in or that which has significance to them. You may direct your gift to a number of annual funds that we have in place to support education, research and patient care initiatives:
Give what you can today and make a difference in the lives of the many people touched by our education, research and patient care programs.
You can make your gift conveniently through our secure online web page or you can mail your check, payable to UMMS, to the Office of Advancement.
For more information about our annual giving program, please contact Ashley Panzarino by email or 508-856-8550.